Who doesn't love a quick, easy casserole for weeknight dinners? There were hardly any leftovers of this one in our household. Tweak the recipe to your taste for spicy, sweet or tangy.
1 lb ground beef
1/2 of a large onion chopped
1/2 tsp garlic powder
1 tsp yellow mustard
3/4 cup ketchup
3 tsp light brown sugar
1 cup shredded cheddar cheese, divided
1/2 cup water
ground black pepper and sea salt to taste
8.5 oz Jiffy cornbread mix 1 box
1 large egg
1/3 cup milk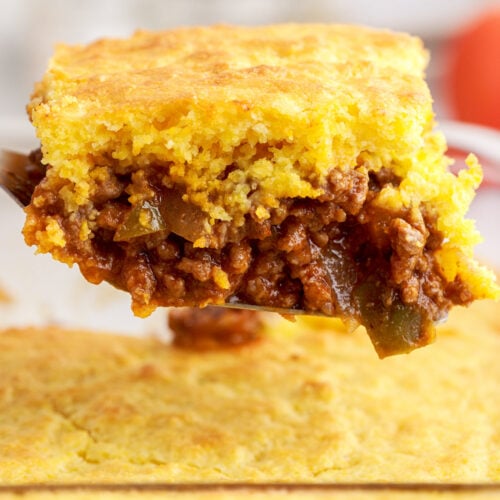 Preheat oven to 400 degrees F. Spray an 8×8 casserole dish with non-stick cooking spray . Saute ground beef and onion in a skillet over medium heat until browned, drain. Add garlic powder, yellow mustard, ketchup, brown sugar, and salt and pepper, along with 1/2 cup water. Bring the mixture to a boil, reduce heat and cover. Simmer for 10-15 minutes. Transfer cooked sloppy joe mixture to the prepared casserole dish. Sprinkle half the cheese on top, add more if you like! Whisk together cornbread mix, egg, milk and remaining cheese until combined. Spoon over the top of the sloppy joe mixture and spread to cover. Bake for 15-20 minutes until the cornbread is golden brown.
*Recipe and photo adapted from Amanda's Cookin'