If you are needing a quick, easy dinner idea for the week give this recipe a try. They reheat great the next day too!
2 lb. ground beef

1/2 Tbsp olive oil
1 tsp salt
1 tsp black pepper
1 tsp garlic powder
1/2 large yellow onion
1/4 cup mayonnaise
8 slices medium cheddar cheese
6 oz medium cheddar, shredded cheese
24 dinner rolls
2 Tbsp unsalted butter
1 Tbsp sesame seeds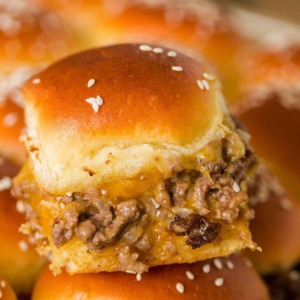 Preheat oven to 350 degrees and butter the bottom of a baking dish. Place large skillet over medium/high heat with olive oil. Add diced onion and 2 lb ground beef. Season with salt, black pepper and garlic powder. Once brown, drain and stir in mayonnaise. Cut the buns in half and place in the baking dish. Line the bread with sliced cheese and spread the ground beef mixture over the top. Add on the shredded cheese, place the buns back on top, brush the tops with melted butter and sprinkle sesame seeds on top. Bake for 15 minutes.
*Recipe and photo adapted from Natasha's Kitchen