Here's a good comfort food recipe. This one takes a little time, but it's worth it.
1 1/2 lb. sirloin steak cut into 1″ pieces

Kosher salt
Ground Black pepper
2 Tbsp olive oil and more as needed
5 Tbsp unsalted butter divided
1 lb cremini mushrooms sliced
1 medium yellow onion diced
3 garlic cloves minced
1/2 cup dry white wine
1/4 cup all-purpose flor
1/2 cup sour cream
1 Tbsp Dijon mustard
1 Tbsp Worcestershire sauce
1/2 Tbsp Italian seasoning
1 3/4 Cup beef broth
Fresh parsley for garnish
10 oz. egg noodles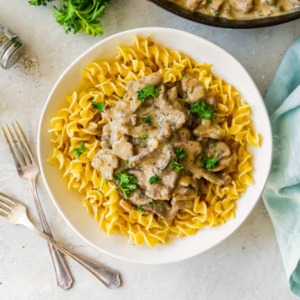 Season beef to taste. In a large skillet set over high heat, add 1 tbsp olive oil. Working in batches, sear the strips of beef for 1-2 minutes on each side, then transfer it to a plate. Repeat with the remaining meat, adding more olive oil as needed. Once all of the beef is seared, set aside. In the same skillet, melt 3 tbsp of butter. Add the mushrooms and onions and cook for 4-5 minutes, until the onions soften and the mushrooms have released all of their liquid and begin to brown. Add garlic and saute for 30 seconds, until fragrant. Pour in the wine and deglaze the pan, then bring it to a boil. Once boiling, reduce the heat to medium and simmer until nearly evaporated, 4-5 minutes. Sprinkle the flour over the onion mushroom mixture, stirring until incorporated. Pour in the broth and stir until smooth, then bring the mixture to a simmer for about 5 minutes, stirring often, until thickened. While the sauce simmers, prepare the noodles according to package instructions. Drain and toss the noodles with 2 tbsp of butter and cracked black pepper. Return the meat and any juices back into the sauce and heat until warmed through. Stir in fresh parsley and serve over noodles.
*Recipe and photo adapted from The Cookie Rookie