Which chili camp are you in – beans or no beans? Here's an easy, tasty no-bean chili you can throw together in about 30 minutes!
2 lb. lean ground beef

1 can green chiles
1 large onion, chopped
30 oz canned diced tomatoes
6 oz tomato paste
2 cups beef stock
1 tsp worcestershire sauce

1 1/2 tbsp chili powder

1 1/2 tsp paprika
1 1/2 tsp onion powder
1 tsp garlic powder
1 tsp ground cumin
1 1/2 tsp salt
1 tsp black pepper
4 tbsp garlic, minced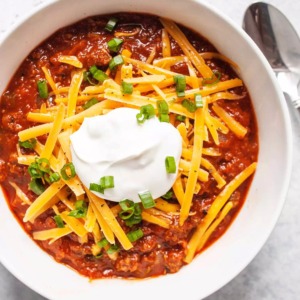 Add ground beef to a large pot and season with Wild Horse. Brown ground beef with onions and green chiles, then drain at least half the fat. Add all other ingredients, cover and let simmer for 20-25 minutes. Season with salt and pepper to taste.
*Recipe and photo adapted from Simply Recipes