Needing to spice up your typical meatball recipe? You might need to try these if so, they were fantastic!
2 lb. ground beef

1/2 cup bread crumbs
2 tsp Worcestershire sauce
1 tsp season salt
1 tsp pepper
1 tsp garlic paste
1 tsp chili powder
1/2 tsp onion powder
2 eggs
1/2 cup shredded mozzarella cheese
1/2 cup barbecue sauce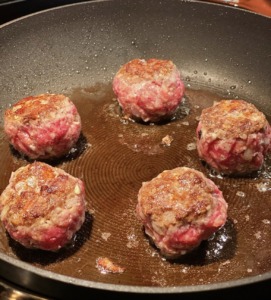 In a mixing bowl whisk eggs. Add remaining ingredients, except barbecue sauce. Stir gently until combined. Using a cookie scoop form meat into meatballs. Set in a greased baking pan. At this point you can either refrigerate meatballs to be baked later or bake immediately. When you are ready to bake meatballs, preheat oven to 400 degrees. Bake meatballs uncovered for 18-20 minutes depending on the size of your meatballs. Baste meatballs with barbecue sauce and return to the oven for 3-5 more minutes.