Leftovers taste just as good and believe us these puppies go fast!
1 lb. ground beef

Small Onion
Minced Garlic
Taco Seasoning
Burrito Size Tortillas
Shredded Cheese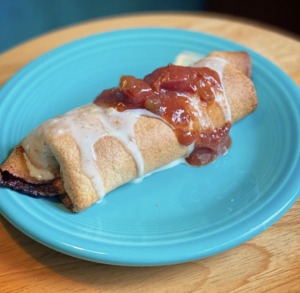 Dice and cook onion in skillet with olive oil until soft, add garlic and ground beef and cook until browned. Drain and return to heat. Add 1 packet of taco seasoning and 1/4 cup water. Let simmer for 5 minutes. While beef is cooking, preheat airfryer to 350 degrees. Spoon beef onto tortillas and roll, folding the ends in first, and secure with a toothpick. Place chimis in airfryer basket and spray liberally with olive oil. Work in batches for even cooking. Airfry for 5-7 minutes to desired crispiness. Serve with your favorite toppings like lettuce, sour cream, salsa, etc.